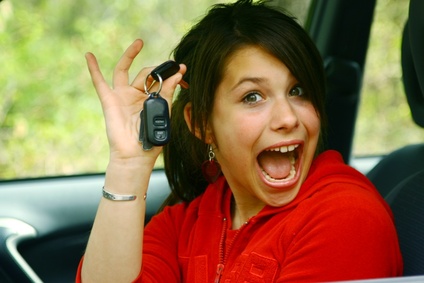 The majority of teenagers dream of being able to drive a vehicle on their own, but most of their parents dread the day their teen gets his or her drivers license. This might be because, according to a number of studies, teenage drivers are highly more likely to be involved in an auto collision than older drivers. It's definitely no surprise that the highest risk of your teen driver being involved in an accident is usually within the first months after he or she receives their drivers license and begins driving solo. If you are the parent of a teen who will soon be driving, check out these bits of helpful information to help you choose the best auto insurance policy for your entire family.
Higher Rates – One thing that parents of teenage drivers need to be prepared for when adding their child to their auto insurance policy is that your rate will most likely increase. This is because teen drivers pose a higher risk when behind the wheel as compared to older drivers with more experience.
Car Type – Many auto insurance companies will give parents discounts when adding their teen to their auto policy if the vehicle they will be driving is a safe model. It's recommended you avoid having your teen drive a compact sports car, truck or SUV, as adding these types of cars to your policy can mean you'll be paying a whole lot more each month. Cars with larger bodies and enhanced safety features are ideally the best ones for novice teen drivers first learning how to navigate the roads and highways.
Drivers Education – Insurance companies often provide parents with lower rates if their teen has completed and passed an approved driver's education course. These classes are usually fairly inexpensive and will really help your teen learn the laws of the road and proper techniques to practice safe driving. See if the school your teen attends provides a discount on a drivers ed course offered locally or perhaps look at enrolling him or her in an accredited online course. If your teen is more of a hands-on learner, it's best to enroll him or her in a class offered locally by a licensed professional.
Good Student Discounts – You may be surprised to find out that some auto insurance companies offer what's called "good student discounts". These kind of discounts are offered to students who maintain good grades at school and are a great way to keep them motivated to achieve their very best. This is because statistics show that students with good grades are generally better drivers than those who struggle in class.
Of course every teen needs to be insured before hitting the road, but it's important to note that parents don't necessarily have to add their teen to their auto insurance policy. It might actually be cheaper for some teens to have their own separate policy and this is usually only applicable to those who drive fairly older vehicles. Contact us today and speak with one of our agents to discuss the coverage options for you and your family.