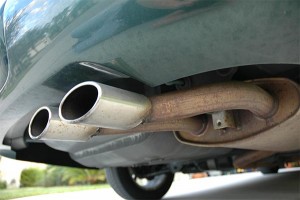 If you live in or around large Californian cities, you know just how bad smog and pollution can be in these parts. Well, there's a bit of good news for those who wish the air was a little cleaner here in the golden state. California along with 7 other states recently signed a pledge to virtually eliminate gas-powered vehicles from their streets by the year 2050. The other states who also signed the pledge are Connecticut, Maryland, Massachusetts, New York, Oregon, Rhode Island and Vermont. They all have chosen to follow the zero-emission vehicle (ZEV) mandates which have previously been issued by an organization known as the California Air Resources Board (CARB). You may be wondering how Californian officials plan to nearly eliminate gas-powered vehicles by 2050, so here is a look at what we can expect here in the next 30 years or so.
Provide Incentives
One way the state of California plans to drastically reduce pollution throughout the state is by offering car buyers hefty incentives for buying zero-emission cars and trucks.
Invest in ZEV Technology
Our state also plans to invest in zero-emission technology in order to help manufacturers bring down the costs and make these cleaner vehicles more affordable for all Californians.
Implement New Policies
California has been leading the way when it comes to ZEV sales thanks to our already established Zero Emission Vehicle Program. The program currently requires auto companies to produce a minimum percentage of zero-emission vehicles to be sold to Californians. They plan to implement even more policies in the upcoming years that will help make the state a healthier place to work and live.
This really is really great news for those who live in California or one of the other states mentioned! So, do you plan on purchasing an electric or hybrid vehicle anytime soon? If so, owning one of these zero-emission vehicles is about to get a whole lot more affordable thanks to this new pledge.