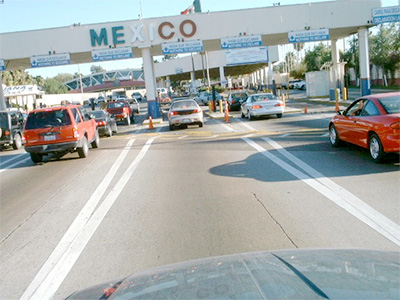 A vacation to Mexico is a great quick getaway from the daily grind, especially for many residents of border states like California. Many American travelers making their way to their favorite Mexican destinations often forget that they are entering a whole other country due to its proximity and never bother to insure themselves. When traveling to a foreign country, it's high recommended that you purchase a travel insurance plan to cover you and your family in the event of theft, loss or any emergency medical issue. Although, keep in mind that most policies do not cover extreme sports or dangerous activities such as scuba diving, motorcycling or parasailing.
If you're driving your vehicle across the Mexican border, you'll need to make it a point to insure your car in case it develops mechanical problems while on your trip or if you are in a wreck. For vehicles driving into Mexico, it's actually required that you have proper insurance and if you are renting, you'll need to pay an additional premium to be covered on the other side of the border. You can purchase auto insurance at the border, but you'll more than likely save more money by exploring your options and making arrangements before you begin your travels.
Many basic medical insurance policies here in the states don't provide coverage when you're traveling outside of the country. Be sure to check with your provider while planning your Mexican vacation and if you're not covered, you'll want to purchase a premium separately because when it comes to health care, Mexico does not have any reciprocal agreements with any other country and does not accept Medicare. In the event of a medical emergency, a non-insured tourist will have to fork over the money out of pocket to pay for any care, treatment, or medications he or she needs. This is why it's important to arrange to have your travel insurance situated before you depart for a stress free travel experience.
For more information and to find out how we can assist you, please email us or call Tony Moreno Insurance at (909) 986-2550